As part of the Unified Community Platform project, your wiki will be migrated to the new platform in the next few weeks. Read more here.
Game modes
These are the various unlockable game modes in Conan Unconquered. You can choose to play single-player (Custom Battle), or two player co-op (Cooperative Battle).[1]
Gameplay is real-time, but you can also pause at any time to issue commands and start construction of new buildings. Maps and enemies are unique, random and procedurally generated. The setting of the desert is the region of Khoraja and the lands to the south.[2]
The Scenario Mode features five concurrent maps[3], which teach you the different mechanics of the game in ascending difficulty. Once you finish these, the majority of play will be using the game modes provided below.[4]
Custom Battle is a custom single-player experience. Players can choose the map density, resources (amount), creeps (amount) and wave count: 10, 25, ?, infinite.
'infinite waves' is unlocked by completing 25 full waves.[5] Unlocking[citation needed] infinite waves grants an achievement: Infinite Waves
You're also able to enable or disable any of the difficulty modifiers listed below, once they are unlocked.
Depending on your settings, you will have a certain score modifier which will multiply your score by the given amount.
Unlocking it grants an achievement: Elite Artifacts
Unlocking it grants an achievement: Elite Creeps
Unlocking it grants an achievement: Crom Mode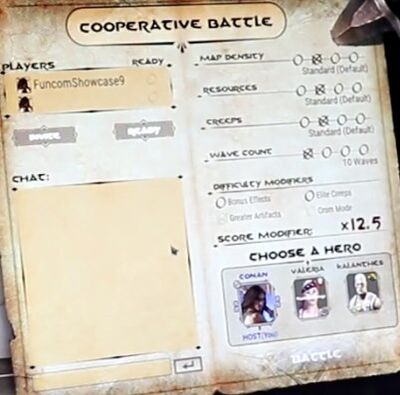 | | | |
| --- | --- | --- |
| " | PVP creates a specific type of environment that sets people against each other. We wanted to create a cooperative environment. We love playing games with friends and family and sharing the story and experience. So we wanted to focus on that now. | " |
| | ~ Renato Orellana[7] | |
Cooperative Battle has the same options as Custom Battle and includes a player list and chat window.
Shared: the base, loot from chests in the wild, benefits from structures like healing fonts, technologies and resources generated with the passage of time.[7][8]
Resources are not shared and both can freely construct new buildings and amass an army to reach their common goal.[1]
Tips
Share resources with your alley. Generated resources are split between both players each period. Keep this in mind when planning who builds which resource buildings.
Flat resources are split between players immediately when produced. This includes Food, Command, Thralls and Soul Essence.
Resource storage is done by each player. Don't worry about spending your partner's resources.
Research can be shared at each other's Guilds, but each guild can only research one task at a time.
Armies are not shared. You are responsible for your own army and its upkeep.
The player's score is shown on a leaderboard along with the seed of the map at the end of a game. Giving this seed to someone else allows them to play the same map with the same settings applied and compare scores through the leaderboard.[9][10]
Co-op with more than 2 players will not be implemented as it would probably be too overwhelming.[11]