As part of the Unified Community Platform project, your wiki will be migrated to the new platform in the next few weeks. Read more here.
Mitra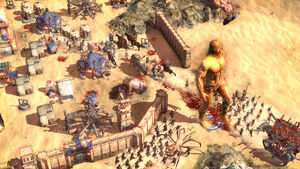 Mitra is a Hyborian god. By building and using a Temple, his Avatar, a bronze colossus, can be summoned to crush invaders.
Requires a Temple and 1000 Zeal (generated by the Temple and Priestess healing.
WARNING: The Avatar can crush all beneath its feet and cause tremendous damage to friend or foe.